welcome to the retrospective 2022
Emily Ansenk
Director Holland Festival
The Holland Festival celebrated its 75-year anniversary this year. During this edition, the festival could once again wholeheartedly do what it has been for ever since its founding in 1947: bringing people together to experience live performances from the Netherlands and abroad.
Artists were able to show what they do best, for which they were rewarded with sold-out venues and lots of applause from the audience. During the opening concert Mother Nature, Angélique Kidjo got everyone in the Carré theatre dancing and singing with her energetic stage personality. One of the audience favourites, Sami Yusuf, more than lived up to his enthusiastic audience's expectations with When Paths Meet, in collaboration with the Amsterdam Andalusian Orchestra and Cappella Amsterdam. Many were able to enjoy the phenomenal acting of people including Adama Diop and star actress Isabelle Huppert in director Tiago Rodrigues' adaptation of The Cherry Orchid (La Cerisaie).

Artist-driven
The Holland Festival always puts the makers centre stage with a key role this year for the French-Beninese singer Angélique Kidjo and the German theatre director Nicolas Stemann: two inspiring and charismatic associate artists. Besides their work, the festival also put the spotlight on themes relevant to them. Representation and the climate were two themes to emerge from conversations with the associate artists and other artists at the festival. This year, too, the festival was able to present a solid and coherent programme resulting from conversations with the makers and bring Dutch and international makers from different backgrounds together. From 3 through 26 June, a total of 33 productions with 107 performances were staged, including 7 world premieres and 16 Dutch premieres. On top of this, there were another 18 complementary programmes, which included workshops, an exhibition, an online film programme and conversations with and about artists.
Complex times
Apart from these successes, the festival unfortunately had to cancel two productions. The large-scale film installation Euphoria from Julian Rosefeldt could not be completed in time because the artist was filming in Ukraine and working with a Ukrainian film crew. Rosefeldt was forced to leave the country because of the Russian invasion. The Murder of Halit Yozgat from Ben Frost was cancelled because of COVID infections in the technical team. The musical theatre piece Yemandja from Angélique Kidjo went on as planned, but as a consequence of the war that had broken out by then the sets and costumes did not arrive in time, and the piece was staged in a more sober form.

Anniversary
Besides the stream of the opera Der Freischütz, an extra, freely accessible Opera in the park was chosen by the audience and shown especially for the anniversary edition: Verdi's comedy Falstaff. Television clips of festival highlights throughout the years were collected under the name 'Holland Festival Parels' ('Holland Festival Pearls'), while in Amsterdam, besides the festive flags and a special festival tram, there was also a remarkable historical poster route. Press from the Netherlands and abroad, from Het Parool to the New York Times, covered the festival's anniversary edition.
During the festival – as with previous editions – a great many bridges between different generations, genres and cultures were built.
Grateful
The Holland Festival is very grateful for audiences and artists returning to the theatres and kicking off the reawakening cultural life. The festival locations saw a host of exceptional performances that would not have been possible without the support of the subsidisers, many partners, private donors and foundations, and not to forget: the Holland Festival team and supervisory board.

The Holland Festival has been around for 75 years and counts its blessings. During the festival – as with previous editions – a great many bridges between different generations, genres and cultures were built. Angélique Kidjo, a bridge builder par excellence herself, phrased it wonderfully during one of her performances: 'You are lucky in this country – for 75 years – to have a festival that allow cultures to meet and to exchange. Without arts, without culture, there is no society.'
Associate artists
There was a central role at this year's festival for the French-Beninese singer Angélique Kidjo (1960) and the German theatre director Nicolas Stemann (1968). The festival featured new and existing work from both. In addition, the themes they focus on – like representation and the climate – were further expanded, and invitations went out to artists they enjoy working with or feel a kinship with. The festival convincingly showed how their broad range of interests transcends generations, nationalities and cultures. Both in the run-up and during the festival, both artists were greatly involved and motivated to engage with the audience and other makers.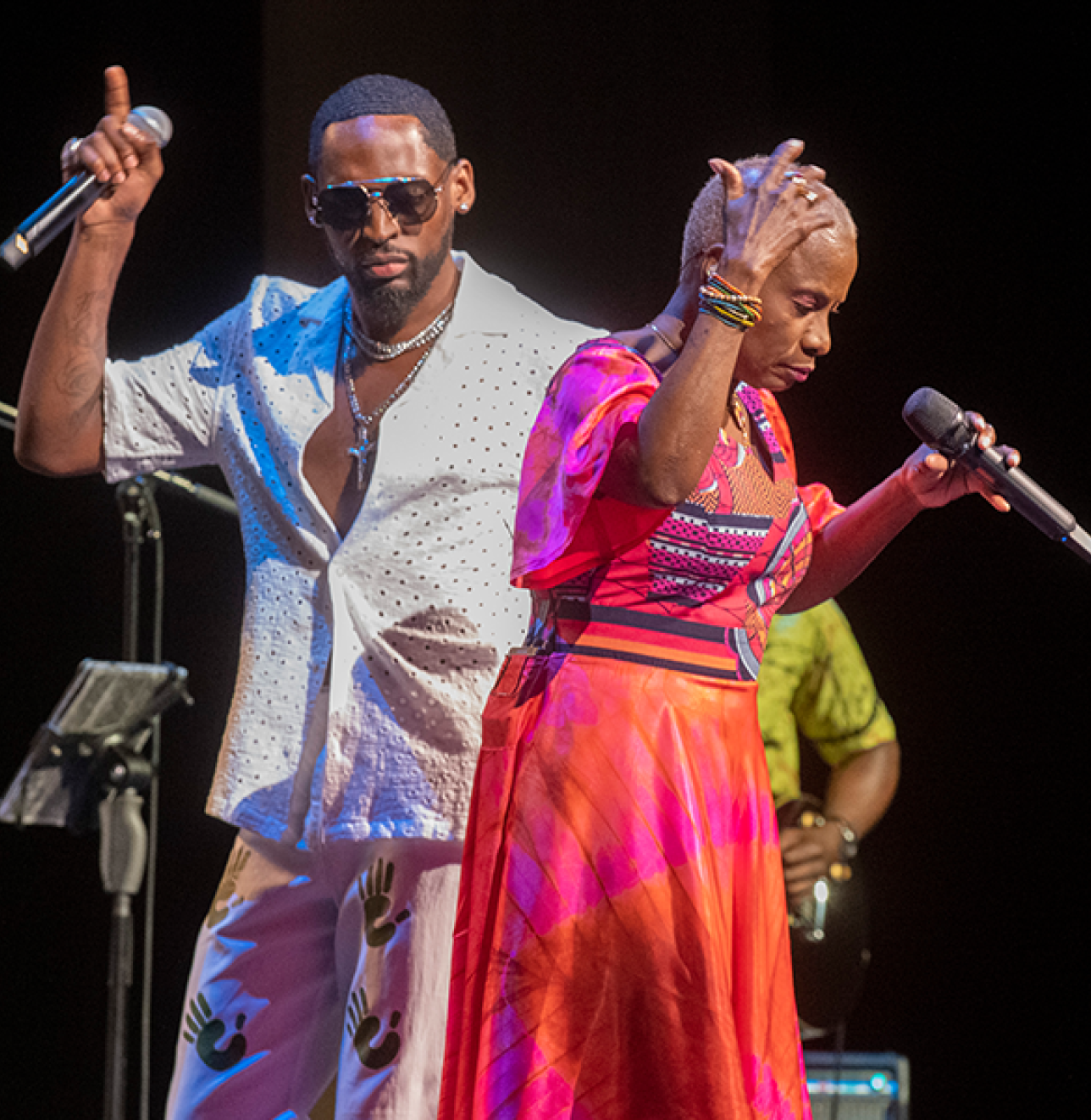 Angélique Kidjo
During the opening concert Mother Nature, Angélique Kidjo invited young stars from Africa, or with African roots, onto the stage, some of whom, like Yemi Alade, a big star in Nigeria, she had not been on stage with previously. Besides songs with Alade, Zeynab Abib, Blue Lab Beats and Ghetto Boy, she sang a song with the Surinamese-Dutch Jeangu Macrooy, who then went on to perform his own song Gold. It was an opportunity for Macrooy to reach new audiences on an international stage. The click between Kidjo and Macrooy was apparent when, after the Holland Festival, she invited him for a guest performance at the Jazz à Vienne festival in France.

→ read more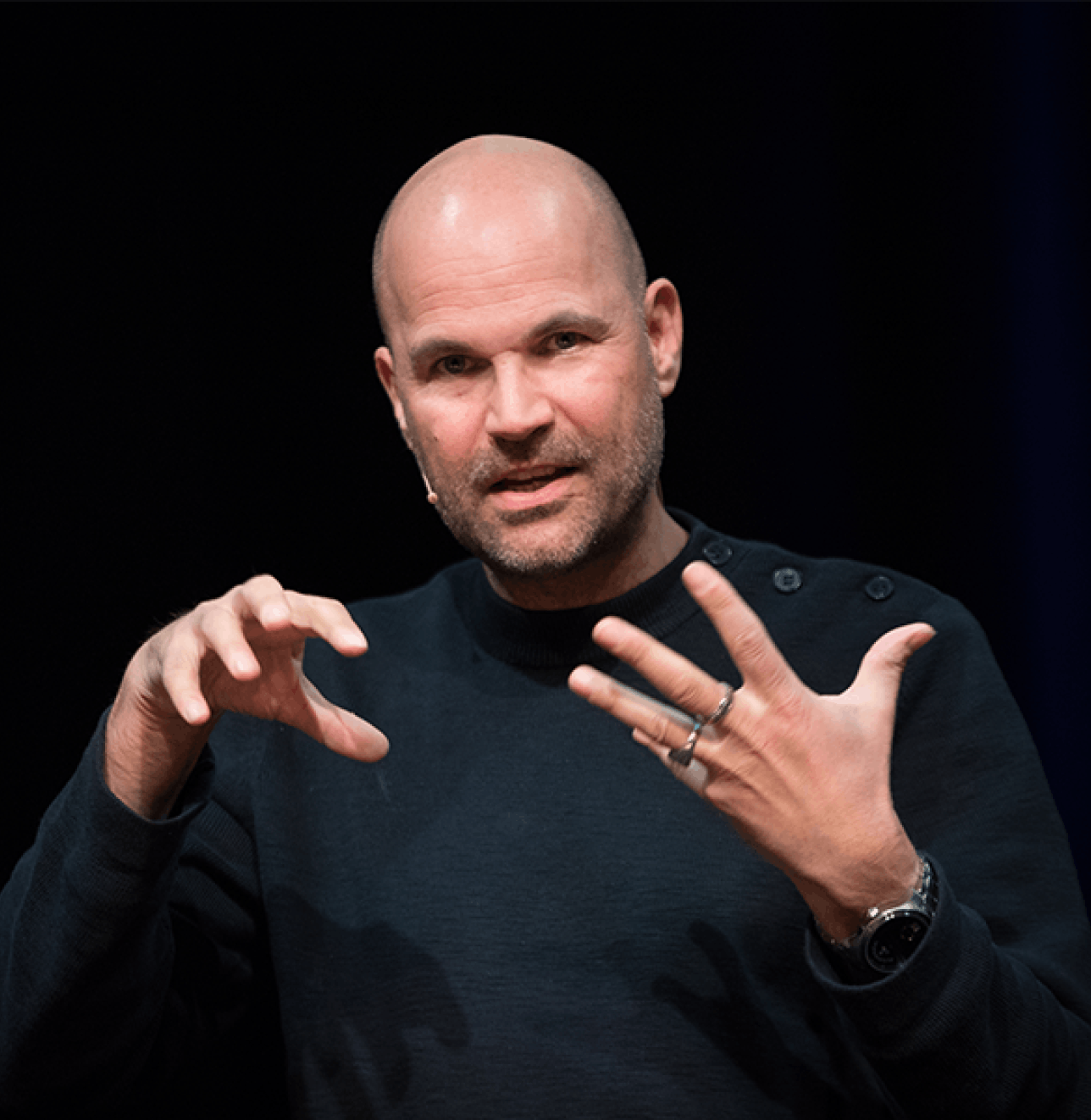 Nicolas Stemann
In Der Besuch der alten Dame, just two actors played all the roles of a classic Swiss text about guilt and punishment. In the piece, the villagers of Güllen buy new shoes on credit while denying their responsibility in the impending murder that allows them to do so. Stemann feels a similar mechanism is at work with our collective denial of responsibility regarding the climate crisis: 'Oh no, we're not destroying the planet, we're just driving SUVs and writing it off.'

→ read more
Network and related artists
Besides the pieces and concerts from the associate artists themselves, several parts of the programme were the result of conversations with the associates and their network.

→ read more
Festival themes
Two themes to emerge from the conversations with the associate artists that recur in their work were representation and the climate.

→ read more
Further exploration and background
The two themes were further explored in various programme sections during the festival, such as in film programmes, talks, workshops and an exhibition.
→ read more

Education
The Holland Festival is also a learning environment, with a variety of activities for students and secondary school pupils. → read more

HF Young
HF Young is the platform for everyone under forty with broad cultural interests that they would like to share with others. Once again this year, HF Young offered special get-togethers relating to the festival programme and discounts on a selection of performances.

→ read more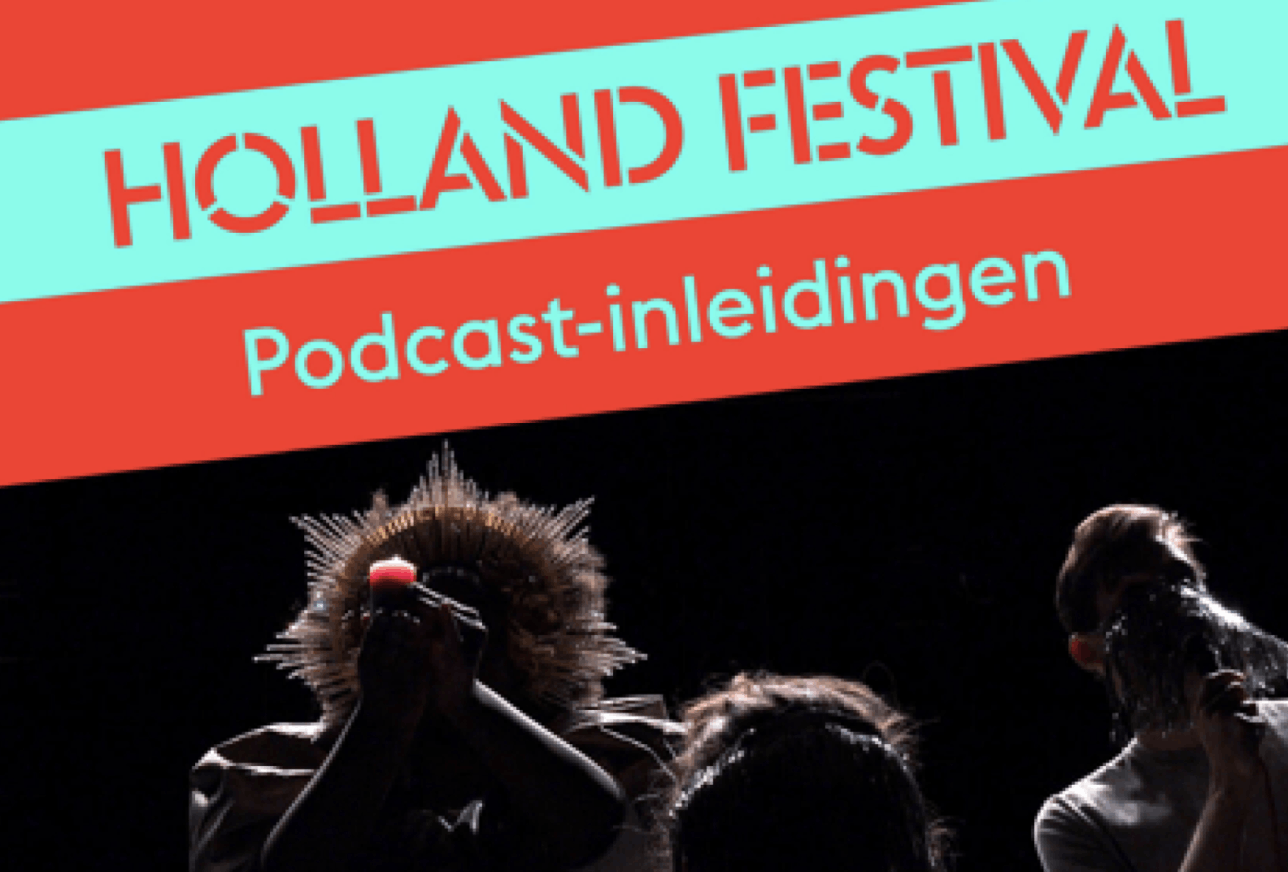 Introductory podcasts
Opinion magazine De Groene Amsterdammer produces podcasts for the Holland Festival highlighting performances and interviewing makers. The podcasts provide background and reflection on the programming. They can be listened to as an introduction or review for visitors and anyone interested in the festival.
listen to the podcasts (Dutch only)
audience reach
For the festival's 75th edition, we made two campaigns to shape the anniversary and show the audience that, also after the COVID-19 pandemic, the festival remains alive and kicking.

→ read more
Mother Nature

Amazing show and everyone dancing in Carré!!! Super night ❤️

Mariëtte Maaskant

Manifesto for the living in a time of extinction

Great initiative!!! We like to participate in urban agriculture projects.

Moestuinschool Amsterdam

Holland Festival tram

Truly a beautiful tram (again, as in recent years, one of the most beautiful themed/advertising trams).

Wilko Wieffering

Bolodjo Plus

Johanna Naomi 😍 & I know where Rihanna's ancestors are from

Myra Bodian

Der Besuch der alten Dame

Truly brilliant! (...) It's just having fun on stage, something we also sometimes see otherwise when classics are brought "that you should respectfully stay away from".

Wim Kok

When Paths Meet

Look at those spectators how happy they are!!🥺 Of course because of @samiyusuf that can make us all happy ❤️! May Allah bless him.🙏

Shadi.Spiritique

Yemandja

Went to see the performance and it was fantastic. Years ago, I interviewed Angélique Kidjo for a music documentary in Canada. I'll never forget her or her presence. Tonight, it all came flooding back. So happy to see her daughter continue the creative tradition in the family.

Deborah CC

A Play for the Living in a Time of Extinction

What a great show! Eye opener: The 6th extinction wave, we are just in the middle of it. The music is brilliant, an incomparable actress and all the power generated by beautiful women!

Emmerique

Kein Licht

Kein Licht was a beautiful and powerful performance.

Roland Kupers

rock to jolt [ ] stagger to ash

Der Ring des Nibelungen

One of the best theatre performances I have ever seen 😍 🔥❤️ ⭐⭐⭐⭐⭐

Femkejmvc

When Paths Meet

This great Festival, that beautiful and romantic Amsterdam and this phenomenal Evening will be always last in my memory's! Enjoyed every moment there! Thanks from the bottom of my heart and greetings from Germany/Stuttgart 💐✨

Nursel Canerik

Porca Miseria

A rollercoaster. And I feel very much like dancing now. It was very raw and pure.

Maryse Hazelzet
30 appearances out of darkness


In this game of disappearing and appearing, Schuitemaker steadily creates space for a redemptive finale. It is an extreme sensation to feel your cranium glowing inside afterwards.

de Volkskrant ★★★★☆

A House of Call. My Imaginary Notebook


Goebbels had pulled out all the stops to enchant the audience. (...) He wanted to pay tribute to voices from the past, from lost and suppressed cultures. To do so, he used old recordings on wax cylinders, which are sent into the hall via a modern sound system, complete with crackling and creaking, accompanied by the orchestra, which also plays amplified. This produces many sense-making moments (...) The audience thanked Goebbels and the orchestra with prolonged applause.

Het Parool

Altamira 2042


In that performance, Brazilian artist cum documentary filmmaker Gabriela Carneiro da Cunha managed to make the sound of the tropics palpable. In a performance that also ended up making the death cry of that same rainforest pierce through the marrow. (...) How powerless you can be, and how helpless you are as an artist in the face of history. If the Altamira 2042 project made me feel anything, it was that.

Cultuurpers

Antarctica


It is the perfect metaphor for how humanity is heading towards a completely uncertain future, with no map, no goal and sacrificing its daughters and sons to it. With wonderful, eclectic music by Mary Finsterer, minimal music dressed up with archaic elements, restrainedly played by Asko | Schönberg under Jack Symonds. Very tightly played by the impressive cast in abstract direction by Imara Savage. Hopefully to be seen more often.

Groene Amsterdammer

A Play for the Living in a Time of Extinction


Katie Mitchell's (sustainable) theatrical musing on climate catastrophe offers catharsis and hope.

de Volkskrant ★★★★☆

Bolodjo Plus


Abib's voice, warm and deep, reaches far into the back of the room. The percussion of her percussion ensemble encourages people to stand up and sway along. At first, this happens cautiously, but soon the Guêlêdê move into the audience, pulling visitors out of their seats in turn and escorting them to the stage. At first, this causes discomfort. Yet after ten minutes they are all there: the student, the pregnant woman, the elderly lady. Yes, Abib knows how to pack and challenge an audience.

Theaterkrant

Circulus/Coro


A brilliant double bill (...) What is always immediately striking about De Raaff's music is the brilliant surface of agile sound bodies, carried by an equally shifting foundation of brooding low. (...) Especially the whisper-soft passages, when he makes the grand piano sound almost like a celesta, are magnificent. And then Berio's Coro was yet to come. Already an impressive work on CD, live it is breathtaking. (...) The performance by RFO and Groot Omroepkoor is exemplary.

NRC ★★★★★

Contre-enquêtes


Most beautiful are a few wordless, evocative scenes, in which the actors move smoothly from duet to duel, and back again. France and Algeria, the West and the Arab world: can they ever understand each other and come closer together? Here on stage, they succeed, sometimes.

de Volkskrant ★★★★☆

De Kersentuin (La Cerisaie)


This French production had another attraction: Isabelle Huppert. (...) Isabelle Huppert plays her role with her characteristic, almost careless, lightning-fast way of speaking. She flutters across the stage like a forgotten diva, shrieking, meanwhile putting great musicality in her text treatment. At first, she seems indifferent to all that is going on around her, but once her fate is sealed, it finally dawns on her that her time is up. Superb how Huppert then recovers and her bewilderment gives way to resignation.

de Volkskrant ★★★☆☆

Der Besuch


Stemann plays with our expectations. Not for nothing did he choose a 1956 play (...) that is more famous in Switzerland than any other play. Then he turned it completely to his will. For instance, he has the 35 characters played by just two actors and a musician. (...) Patrycia Ziólkowska and Sebastian Rudolph play with insane energy.

Het Parool

Der Freischütz


Serebrennikov, commissioned by De Nationale Opera (DNO), knocked the dust out of Der Freischütz and then turned the whole work inside out. (...) Serebrennikov's musical theatre was delivered with great sense of humour by all involved, including the soloists and the singers of the fantastic Chorus of The National Opera. The Hunter's Chorus, the opera's most famous piece, became a hilarious highlight here, receiving a thunderous open curtain even before the music came to an end. The hall reveled in joy.

Trouw ★★★★★

Der Ring des Nibelungen


Der Ring des Nibelungen at the Holland Festival a must-see. (...) It is a virtuoso piece of theatre in which the main characters from Wagner's Ring have their say, not singing, but narrating. Not singing, but telling. (...) A feast for everyone who loves beautiful texts, who loves fresh contemporary (music) theatre.

Place de l'Opéra

Hans van Manen Festival


A four-part dance programme in honour of Hans van Manen opened strongly. (...) When Van Manen comes to applause with his back straight and elegant walk, there is always a party in the hall. His jewels are behind him: the dancers of the Dutch National Ballet who show how a Van Manen comes into his own in his timeless, musical classics.

de Volkskrant ★★★★☆

HF X Lofi


If anywhere shows the Holland Festival's commitment to diversity, it is the evening in and around Amsterdam's club Lofi. It will be hard to find another event this year where artists from the Netherlands, Berlin, Indonesia, Uganda, and Kenya play side by side and in some cases even together. (...) Uplifting then is an adjective that falls short.

de Volkskrant ★★★☆☆

Ifé


In the acoustics of the Concertgebouw, everything sounded equally beautiful. The semi-jazzy syncopations in the double bass part, in a way, prepared the minds for African sound idioms. And those came in the form of Ifé, a three-part song cycle from 2014 by Philip Glass with lyrics in the Yoruba language. (...) The fact that the original wider instrumentation for symphonic orchestra had been reduced to piano and strings presumably helped transparency and allowed Kidjo to shine.

Basia con fuoco

Kein Licht


Kein Licht is packed with themes that dig deeper than the delusion of the day. (...) A strong quartet of vocal soloists also continuously changed roles. One pearl after another sparkled in Manoury's turbulent, colour- and contrast-rich music, excellently played by the United Instruments of Lucilin from Luxembourg.

NRC ★★★★☆

Le moindre geste


You can't tell tragedy from sign language, as the intriguing performance Le moindre geste shows. (...) In any case, this piece underlines that optimal communication requires more than just listening or watching.

de Volkskrant ★★★☆☆

Moby Dick; or, The Whale


That pluralism, reflected in the multitude of forms and styles, is pleasing to the eye and feels logical and organic. You sense that there is a whole collective behind this adaptation. It does justice to the layering of Melville's novel, without following it closely. (...) I marvelled at the visual power, imagination and guts of this group of performers.

Cultureel Persbureau

Mother Nature


Performers of this calibre are more than scarce, because find them: someone with such imposing charisma, with such incomparable energy, and most important of all: with such a stunningly strong voice that also sounds one hundred per cent sincere. (...) At the very beginning, Kidjo had to briefly urge the audience to get out of their seats. That same audience two hours later was unrecognisable: so incredibly enthusiastic.

Trouw ★★★★☆

Symbiosis


An immersive multi-sensory experience, engaging not only the eyes and ears, but also the senses of smell, taste and touch. (...) Symbiosis [powerfully morphs] our all-too-human perspective.

NRC ★★★★☆

When Paths Meet


From headscarves to thickly lacquered influencers, from elderly to young and in quite a few colours of the rainbow, the Concertgebouw's audience space looked like a celebration of cultural fraternisation, just as the title of Yusuf's new work reads: When Paths Meet. (...) It is also music that blows your socks off with polyphonic choirs, virtuoso percussion and the power of the unison melody held by many instruments at once. A warm bath, then, that at times thrilled the audience.

Cultureel Persbureau

Yemandja


Due to circumstances, the container, which was due to be shipped from the US back in May, did not arrive in Amsterdam on time; shipping relief supplies to Ukraine took priority. As a result, the set by artist Kerry James Marshall is missing and an interim solution had to be arranged for the costumes. (...) It is clever that despite this obstacle the performance was able to go ahead, almost without any artistic disadvantage. (...) The great music, in which jazz and traditional African rhythms predominate, makes Yemandja a handsome, greatest performance.

Theaterkrant
Holland Festival thanks Friends and partners
The Holland Festival presented some 2,600 performances over the course of 75 years. We were able to realise all these exceptional, inspiring and challenging performances with the help of amazing composers, directors, choreographers, film makers, artists, dancers, musicians, actors, performers and other participants, friends and partners. We also thank the adventurous audiences, who time and again dare to let themselves be surprised. Many thanks to everyone who keep helping us make the festival possible!

The Holland Festival wishes to thank all subsidy providers, funds, business partners and various private donors for their enthusiasm and support: the Ministry of Education, Culture and Science, the City of Amsterdam, production partner Ammodo, main patron Fonds 21, VSBfonds, Prins Bernhard Cultuurfonds, Performing Arts Fund, The Brook Foundation, Hartwig Art Foundation, Institut Français des Pays-Bas, Goethe-Institut Niederlande and our partners Hotel Casa Amsterdam, EY, Zadelhoff Culture Fund, Pro Helvetia, Van Vloten Car Company, dr. Hendrik Muller's Vaderlandsch Fonds, W.E. Jansenfonds, Stichting Betrokkenen Stedelijke Vernieuwing, Gravin van Bylandt Foundation, D. Hellingman en Zoon, Beam Systems, De Nederlandsche Bank, DoubleTree by Hilton Amsterdam Central Station, G&S Vastgoed, Ledlease, Loyens & Loeff, Mertens AVR, Pension Homeland, Q-Park Nederland, ROEF Amsterdam, WestCord Art Hotel Amsterdam, Peitsman Light and Sound, Ampco Flashlight Sales, Events Light and Peak Audio. Special thanks go out to our Governors, Friends of the Heart, Guardians, (Young) Benefactors, Admirers and the HF Young Circle of the Holland Festival.
Our Friends
Special thanks to our Governors, Friends of Heart, Guardians, (Young) Benefactors, Admirers and the HF Young Circle of the Holland Festival.

Governors
Ronald Bax and Frank Lunenburg, G.J. van den Bergh and C. van den Bergh-Raat, Rob Defares, Arent Fock, J. Kat en B. Johnson, Françoise van Rappard-Wanninkhof, M. Sanders, Tom de Swaan, Elise Wessels-van Houdt. Governors who wish to stay anonymous.

Friends of Heart
Mavis Carrilho, Kommer and Josien Damen, Astrid Helstone and Diederik Burgersdijk, Bernard and Ineke Dijkhuizen, Nienke van den Hoek and Alexander Ribbink, Isaäc and Francien Kalisvaart, Kristine Kohlstrand, Joost and Marcelle Kuiper, Roland Kupers, Emma Moloney, Robert Jan and Mélanie van Ogtrop-Quintus, Marsha Plotnitsky, H.J. ten Have and G.C. de Rooij, Anthony and Melanie Ruys, Coen Teulings and Salomé Bentinck, Patty Voorsmit, Hans Wolfert and Marijke Brinkman, Wolbert and Barbara Vroom-Cramer. Friends of the Heart who want to stay anonymous.

Guardians
B. Amesz & E. Boswijk, M. Appeldoorn, Lodewijk Baljon and Ineke Hellingman, R.F. van den Bergh, Maarten Biermans and Helena Verhagen, S. Brada, Frans and Dorry Cladder-van Haersolte, Sabine Vroom, J. Docter and E. van Luijk, Huub A. Doek, L. Dommering-van Rongen, Marianne Eisma, E.L. Eshuis, E. Granpré Moliere, M. Grotenhuis, V. Halberstadt, S. Haringa, W. and J. Jansen-Straver, Luuk H. Karsten, Monique Laenen and Titus Darley, Ton and Jannie Liefaard-van Dijk, A. van der Linden-Taverne, Sijbolt Noorda and Mieke van der Weij, Ben Noteboom, G. van Oenen, Pim and Antoinette Polak, Lisette Schuitemaker and Jos van Merendonk, C.W.M. Schunck, Ingeborg Snelleman and Arie Vreugdenhil, A.N. Stoop and S. Hazelhoff, P. Wakkie, O.L.O. and Tineke de Witt Wijnen-Jansen Schoonhoven. Guardians who want to stay anonymous.

Benefactors
Nigel Bagley and Lorraine Dean, Ilonka van den Bercken, Ellen Birnie, Co Bleeker*, Femke Blokhuis, Jasper Bode, K. Bodon, Jan Bouws, E. Bracht, D. de Bruijn, G. van Capelleveen, Marie Hélène Cornips, M. Daamen, Prof. Cees Dam, J. Dekker, M. Doorman, Sylvia Dornseiffer, Chr. van Eeghen*, Ruud Emous, Monica Galer, Caroline van Gelderen, Susan Gloudemans, E. de Graaff-Van Meeteren, F. Grimmelikhuizen, D. Grobbe, Bureau Groen – Nicole Groen, Meike Hartelust and Just In't Velt, Ann van der Haven, Annelies Heidstra and Renze Hasper, Hagar Heijmans, B. Heijse and A.M. Heijse-Verbeek, Servaas Hensen, G. van Heteren, L. van Heteren, S. Hodes, J. Hopman*, J. Houtman, Roos Huls, E. Hummelen, Wendy van Ierschot, P. Jochems, Jan de Kater, R. Katwijk, Ytha Kempkes, J. Keukens, E. Kocken, Aron Kovacs, Casper van der Kruk, A. Ladan, Cees Lafeber, Hilde Laffeber-Nicolaï, M. Le Poole, M. Leenaers, M. Levenbach, A. Ligeon, T. Lodder, R. Mackenzie, D. van der Meer, E. van der Meer-Blok, Christa Meindersma, E. Merkx, Jaap Mulders, H. Nagtegaal, La Nube, Kay Bing Oen*, E. Overkamp and A. Verhoog, Jill Pisters, P. Price, F. Racké, J. Rammeloo, Jet de Ranitz, Wessel Reinink, Richard van Remmen, Peter Ruys, Inge Schmitt, A. Schneider, H. Schnitzler, G. Scholten, Joanne Schouten, Ronald Siemers – in remembrance -, P. Smit, G. Smits, A. Sonnen, W. Sorgdrager and F. Lekkerkerker*, K. Spanjer, Reinout Steenhuizen, C.P.-M.H.-L. Tegelaar, C. Teulings, H. Tjeenk Willink, A. Tjoa, M. Tjoe-Nij, Y. Tomberg, David van Traa, Tamara Trotman, Kurt Tschenett and Sasha Brunsmann, Frank Uffen, M. Verhoeff-Neef, Truus Visser, A. van Vliet, M.M. de Vos van Steenwijk, A. Wertheim, M. Witter, M. van Wulfften Palthe, M. Yazdanbakhsh, M.J. Zomer, P. van Zwieten and N. Aarnink. Benefactors who want to stay anonymous.

* extra contribution

Young Benefactors
Helene Bakker, Aram Balian, Quirijn Bongaerts, Jonne ter Braak, Jasmin Farag, Joost Gorter, Brendon Humble, Judith Lekkerkerker, Eva Moerbeek, Pieter Nooitgedagt, Guus Schaepman, Eerke Steller, Rosanne Thesing & Melle Kromhout, Bart Truijens, Esther van der Veldt, Frank Verschoor, Tristen Vreugdenhil, Lonneke van der Waa. Young Benefactors who want to stay anonymous.

Admirers
All 657 Admirers.

Meeting and coming together
The festival is a place to meet at and around the different performances and have a chat afterwards, to experience the festival together and to share your enthusiasm about what you saw or will go see. Friends were given a look behind the scenes of Der Ring des Nibelungen and The Nation, met the makers and talked about the festival's various themes at the bar. One Friend's reaction nicely sums up the festival experience: 'Art really only comes to life when you can talk about it with others. That's one of the best things about the Holland Festival, the encounters before and after.'

We are preparing ourselves for the 76th Holland Festival in June 2023. Would you like to experience the festival from up-close? Then become a Friend, like so many have already. Your support will help us make the festival even greater. Please check here for more information.
Make unprecedented and unique performances possible.
Support us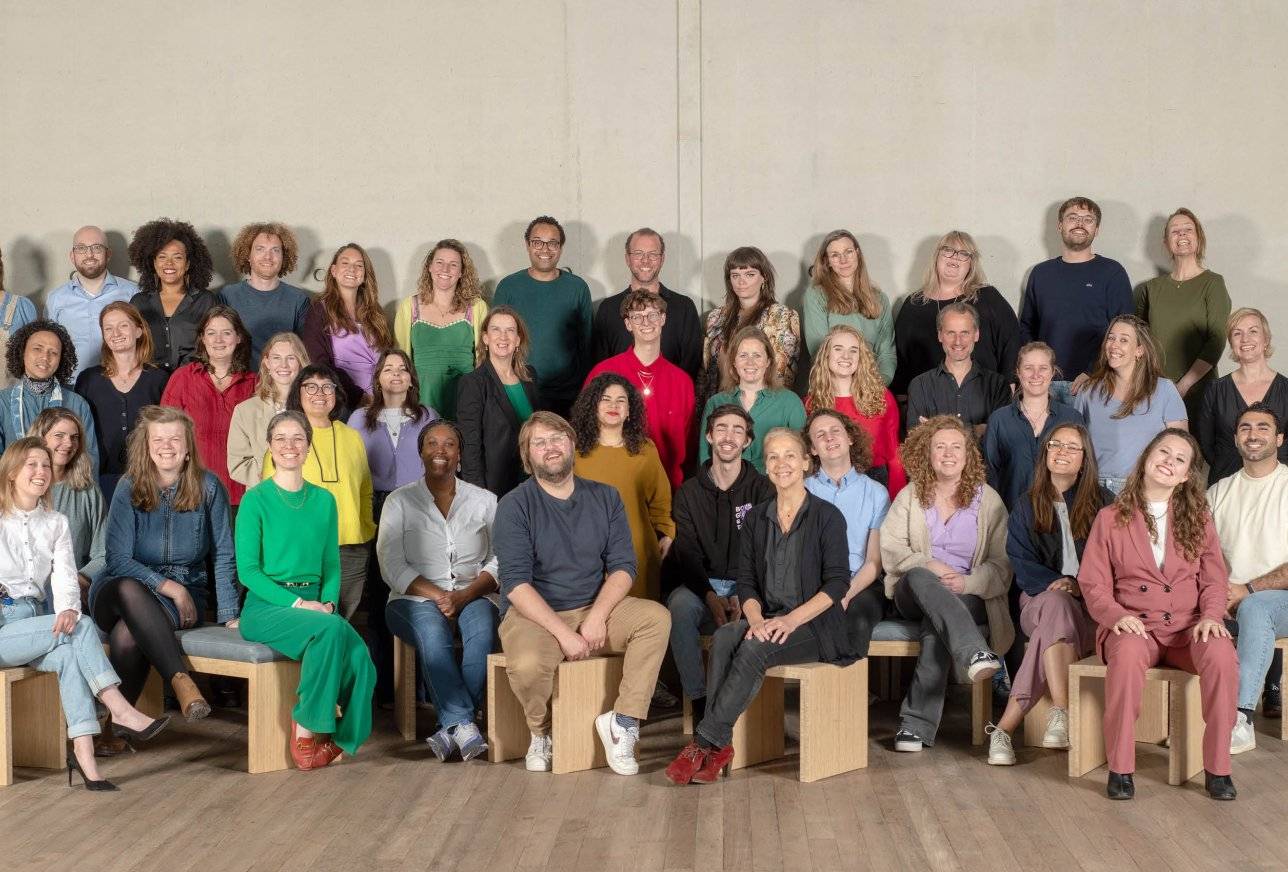 Holland Festival team
Thanks to the entire Holland Festival team, we were able to put this festival together.
Holland Festival team 2022